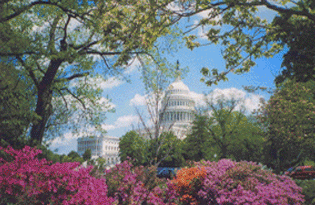 Photo Safaris in Washington DC and Worldwide

Washington Photo Safari™ is one of the largest photography training programs in the United States, offering 5-6 photo safaris every week, teaching over 280 participants per month how to take well-composed photos.

Safaris take place in the Washington DC area (twice a day during cherry blossom season!), and are also offered to multiple U.S. and international locations. Over 28,000 amateur photographers have improved their skills through Washington Photo Safari since we began the program in 1999.

Our basic "Monuments and Memorials" safari every Wednesday and Saturday in Washington DC includes such architecturally diverse sites as the White House, Lafayette Park, Lincoln Memorial, Vietnam and Korean War Memorials, the Capitol Building, and Union Station, where we review interior photography w/o flash and teach you how to make all the moving people in the station disappear!

Every Saturday afternoon we also offer walking excursions to a different DC-area attraction, such as the Franciscan Monastery, the Adams-Morgan neighborhood, or the US Botanic Garden. These safaris also appeal to people who love to take pictures but prefer the safety of a small group under the guidance of a professional photographer.

We also offer photo safaris tied to unique themes or techniques, such as all-digital safaris, fine arts, nature photography, outdoor portraiture, f stops and shutter speeds workshops,model trains, wedding and pet photography. Another explores Washington's art galleries and museums, while others are timed to capture the rising of a full moon over the Capitol or the sun rising behind the Washington Monument!

If you love taking pictures and want to learn how to make them better, the Washington Photo Safari™ is for you!



Call toll-free 1-877-512-5969, email info@washingtonphotosafari.com or visit us at http://www.washingtonphotosafari.com.
Website
www.WashingtonPhotoSafari.com
Year Established
1999
Program Description
Safaris covering basic techniques of travel & landmark photography, includes composition, exposure & lighting. Sites include monuments, museums, historic buildings. Special safaris in digital, pet, nature, wedding & portraiture, & nighttime photography.
Upcoming Events
Full Moonrise Over the Nation's Capital
May 24 2013
Venue: Washington Photo Safari,

4545 Connecticut Avenue NW

,

Washington

DC

(Map/Directions)
Postcard-Perfect Photography : A Travel Photography Workshop
May 26 2013
Venue: Washington Photo Safari,

4545 Connecticut Avenue NW

,

Washington

DC

(Map/Directions)
Barns, Farms and Bridges of Frederick County MD
Jun 23 2013
Venue: Washington Photo Safari,

4545 Connecticut Avenue NW

,

Washington

DC

(Map/Directions)
Washington National Cathedral - An Insider's View
Jun 23 2013
Venue: Washington Photo Safari,

4545 Connecticut Avenue NW

,

Washington

DC

(Map/Directions)
The White House At Night; A Workshop on Nighttime Architectural Photography
Aug 30 2013
Venue: Washington Photo Safari,

4545 Connecticut Avenue NW

,

Washington

DC

(Map/Directions)
Harpers Ferry, West Virginia
Oct 27 2013
Venue: Washington Photo Safari,

4545 Connecticut Avenue NW

,

Washington

DC

(Map/Directions)

Number of Programs/Year
300+
Program Length
1/2-day to 3 days
Group Size or S:T Ratio
7:1
Program Focus
Architecture, Artistic Technique, Business, Digital, Fine Art, Landscape, Macro, Photodocumentary, Portraiture, Technical, Travel, Wedding, Wildlife
Faculty
12 professional photographers. Director is E. David Luria, architecture & landmark photographer, member American Society of Media Photographers, whose images appear in 100 publications, 30 magazine covers.
Costs
$84/half-day workshop around monuments, $149/full-day workshop; both include transportation. $64 & up for special safaris. $395-$575 for domestic & international safaris.
U.S. Locations
Washington, District of Columbia
Includes Baltimore, Frederick, Annapolis, Maryland
Cape May, New Jersey
New York City, New York
Harrisburg & Bloomsburg, Pennsylvania
Philadelphia, Pennsylvania
Arlington, Virginia
Alexandria, Arlington, Chincoteague, Shensndoah National park, Virginia
Yellowstone National Park, Wyoming

Months
Year round
Sponsor's Calendar Link
washingtonphotosafari.com/safaris/C4/
Sponsor's Facebook Page
www.facebook.com/pages/Washington-Photo-Safari/198023252003
Contact
E. David Luria
Director
Washington Photo Safari™
4545 Connecticut Ave. NW, #620
Washington, DC 20008
United States
Phone: 877-512-5969, 202-537-0937
Fax: 206-600-5165
E-Mail:
Additional website: www.edavidluriaphotography.com